Pangu team successfully released a fully working jailbreak tool for iOS 8 to iOS 8.1 devices.
These are instructions on how to jailbreak your iPhone 6, iPhone 6 Plus, 5s, 5c, 5, 4s on iOS 8.0 - 8.1 using Pangu8 for Windows and MAC.
Pangu is the name of the jailbreaking application for iOS 8.0, iOS 8.0.1, iOS 8.0.2 and iOS 8.1
It's 100% free jailbreak for iPhone 6, iPhone 6 Plus, and any devices that running on iOS 8.
SPYERA has confirmed that the Pangu jailbreak works on iOS 8.0, 8.0.1, 8.0.2 and 8.1
SPYERA is now compatible with all iPhone model iOS 8.0 up to and including iOS 8.1
Please note: Pangu supports following iOS 8.0 - 8.0.1 - 8.0.2 and 8.1 running devices:
iPhone 6, and iPhone 6 Plus
iPhone 5s, iPhone 5c, iPhone 5, and iPhone 4S
iPad Air, iPad Air 2, iPad 4, iPad 3, iPad 2
iPad mini, Retina iPad mini / iPad mini 2
iPod touch 5G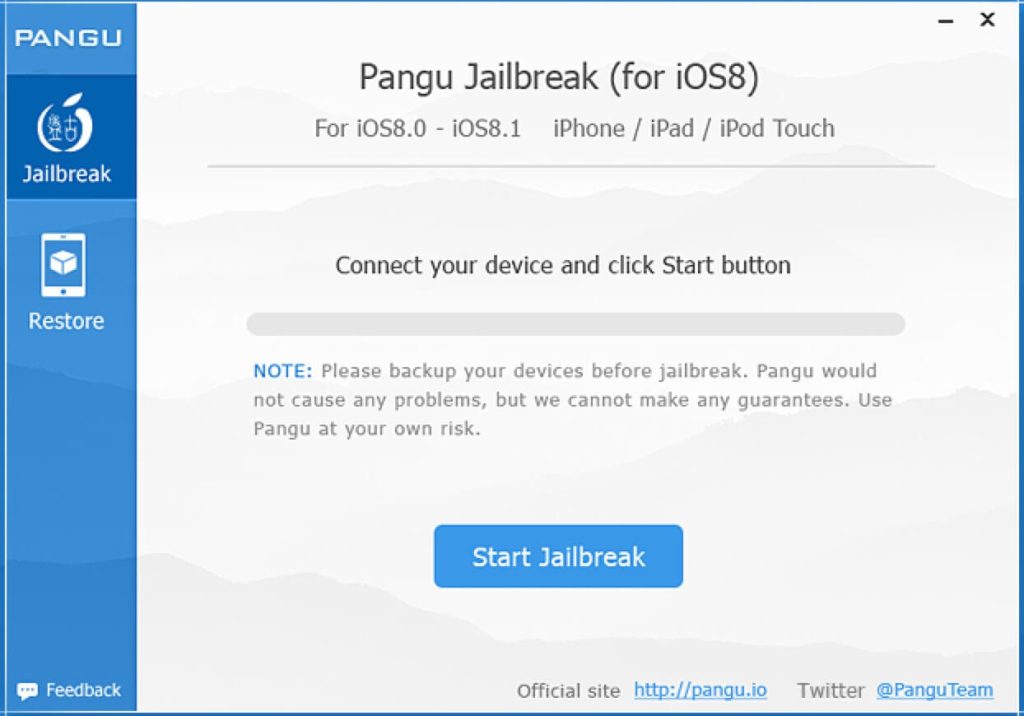 This is instructions on how to jailbreak your iOS 8 devices such as iPhone 6, iPhone 6 Plus etc. by using Pangu.
Requirements before to start
Tap Settings from your Springboard then select Touch ID & Passcode. Turn Passcode Off if it is enabled.
Press the Settings button at the top left to return to the Settings menu. Choose iCloud from the Settings menu then select Find My iPhone from the iCloud menu. Ensure the Find My iPhone switch is the Off position.
Return to the Settings menu by tapping the iCloud then Settings buttons at the top left of the screen. Then enable Airplane Mode by tapping the Airplane Mode switch.
Connect your iPhone to the computer via a USB cable, launch iTunes, and perform a manual backup. It is very important that you remember to backup your device before continuing as you could lose your data if the jailbreak process does not complete successfully.
Now you are ready for Jailbreak
Step 2 – Run the Pangu jailbreak application (For Windows run it in Administrator mode)
Step 3 – Connect your iPhone or iPad that is running iOS 8.0 / 8.0.1 / 8.0.2 / 8.1
Step 4 – You will notice the device is detected by the software. Click the large Start Jailbreak button to begin your jailbreak.
Step 5 – You will be prompted to confirm that you've backed up your device and that it's in Airplane Mode, click the Already Did button to continue.
Step 6 – The Pangu app will now begin the jailbreak process.
Step 7 – Once the jailbreak has completed successfully, your iPhone will reboot and a Pangu app and Cydia app will appear on your Springboard. Congratulations, you're now jailbroken!
You can verify this also by looking on your device now and seeing the Cydia icon.
Removing Pangu and Cydia icon
You can remove the Pangu icon by the following steps. Cydia icon can be hide once you install SPYERA
Open Cydia
Tap on the 'Installed' option in the bottom bar.
From the list of installed packages tap 'Pangu loader for iOS'.
Tap Modify.
Tap Remove.
Jailbreaking is required on all iPhone and iPad models in order to install SPYERA so now you are ready to install SPYERA on iOS 8 devices. Cydia icon and the SPYERA icon can be hidden at the end of the installation process if desired.
Please click here to explore SPYERA for iPhone and here to explore SPYERA for iPad