Track Any Cell Phone with Hidden Phone Tracker
The most powerful and undetectable cell phone tracking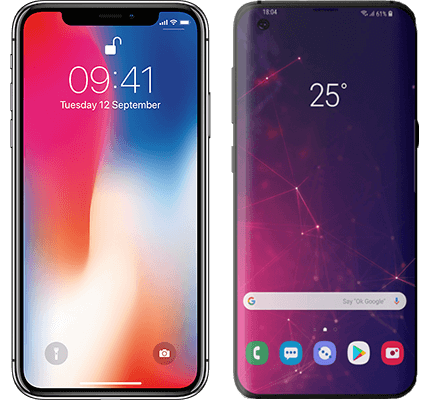 GPS Tracking - Track their GPS location in real-time
Track SMS messages, text messages, and deleted messages
Read Facebook, Skype, WhatsApp, Tinder, Snapchat, iMessage, LINE etc.
Capture pictures, videos, and audio
Phone Keylogger included. Record keystrokes to see anything typed
Make Spy Calls - listen live to phone environment
Intercept Call - listen to live phone calls
Record phone calls and surroundings
Spy on Calendar, Notes, Bookmarks, Web History
Monitor Social Media accounts
Alert Wizards and Event Flagging
Easy to install, step-by-step guide with screenshots
Free updates and device changes during the subscription
100% UNDETECTABLE AND INVISIBLE PHONE TRACKING APP
A ton of advanced features in a single mobile phone tracking app
LISTEN TO PHONE CALLS
Listen to Live Calls
SPYERA allows you to spy on phone calls on any cell phone. It's like having a direct line on every call, hearing it live as it happens. You receive a secret SMS alert. If you then call the target mobile, you will be added to the live calls and listen in real-time.
MONITOR CHAT APPS
IM Tracker
SPYERA is the only mobile tracker that can spy on all popular messaging apps. Track messages on Facebook, WhatsApp, FaceTime, Skype, LINE, Viber, Snapchat, and many more. See the conversation, including the stickers, status, profiles, pictures, locations, and emoticons.
PHONE CALLS RECORDING
Live Call Recording
Call recording records phone calls on iPhone or Android phones in both ways. You can record any call made to or from the target phone. Recorded calls will be sent to your web account. You can listen to or download recorded calls anytime, anywhere. SPYERA is the only software that can record phone calls.
AMBIENT LISTENING
Listen To Surroundings
Hear what's happening around the target phone. Open the microphone and listen to the phone's surroundings. Remotely turn on the target mobile phone's microphone. Listen to the phones' surroundings, like a bugging device (conversations in the room, etc.).
SPY ON PHOTOS
Monitor Media Files
Cell​ phone tracking allows you to access all media files remotely. Get all the photos they take or are already on their mobile devices. Hear all audio and voice memos. Even if they delete media files, you will still have a copy on your web account.
KEYSTROKE RECORDER
Monitor All Keystrokes
Track every detail with precision. This tool provides an in-depth understanding of user behavior by recording all keystrokes. It's an invaluable resource for discovering hidden information, such as unshared thoughts, undisclosed passwords, and unsearched queries.
SMS TRACKER
Spy On Text Messages
Mobile phone tracking software captures all text messages. Remotely read all incoming and outgoing SMS. Spy on text messages, even those that may have been deleted. See details such as contact names and numbers associated with SMS messages, including date and time.
PHONE SPY CAMERA
Open Camera Remotely
Turn on the target phone's front or back camera remotely. Using the target phone's camera, you can take photos or videos remotely and view them later from your web account. Spy Camera for mobile is a powerful mobile surveillance feature.
RECORD VOIP CALLS
Spy on VoIP Calls
Record VOIP calls on Facebook, Skype, Viber, WhatsApp, Line, and Hangouts. If the target phone makes or receives calls, these calls will be automatically recorded and uploaded to your web account. You can listen to or download it at any time.
AMBIENT RECORDING
Record Phone Surroundings
Remotely enable the target phone's microphone. Set the ambient recording to be recorded immediately or scheduled. Surroundings' voices will be recorded, and files uploaded to your web account. You can listen to or download it at any time.
GPS LOCATION HISTORY
GPS Location Tracker
GPS Tracker uses real-time GPS positioning to show the coordinates of the target phone. See the phone's exact and accurate location, and track movements and visited places on a detailed map. You can easily track the phone from your web account.
EMAIL TRACKER
Spy on Emails
Know exactly what emails are being sent from their cell phones. The tracking app captures Emails sent to your web account. Phone Email Tracker captures all their emails. The contact name will also be available if the email address is in the phone's address book.
VIEW ALL FEATURES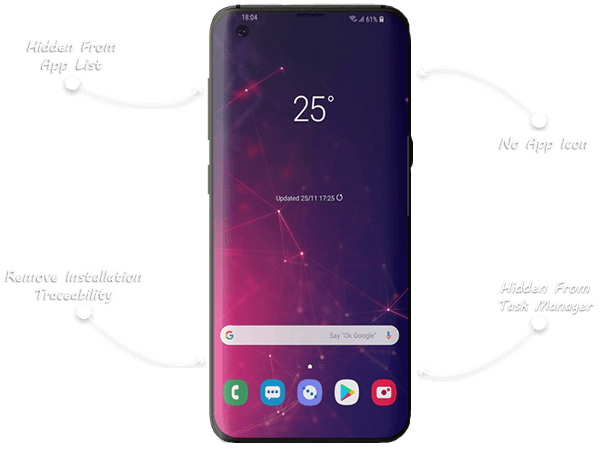 The Best Mobile Tracker App
Operating in stealth mode, SPYERA remains entirely concealed in the background. It is the only undetectable phone tracker, leaving no trace of its presence. It doesn't impact the device's performance or battery life and remains hidden from the launcher and task manager's home screen.
Conceal Jailbreak and Root Indications
SPYERA empowers you to disguise its CYDIA icon and any evidence of rooting on Android devices. Users will remain oblivious that their device has been jailbroken and rooted.
GET STARTED
INVISIBLE
It can run 100% invisible or visible. Undetectable, it runs in the background without any evidence.
MORE FEATURES
It offers everything competitors have, plus 70 features that no one else can offer.
MORE DEVICES
Offers Unlimited instant device changes during subscription
REMOTE CONTROL
Provides remote updates, remote upgrades, remote settings changes, and remote uninstall
SPYERA VS COMPETITORS
Click here to see the full features and detailed comparison list with competitors.
LEARN MORE
How Does It Work?
SPYERA is easy to setup and use
Phone Tracker
Most Frequently Asked Questions
Can I track someone's phone location?
Yes, with SPYERA, you can track someone's phone location.

SPYERA is a powerful cell phone tracking app that monitors a device's location in real-time. It provides accurate location data and lets you view the historical places the device has visited.

Please remember that using such software should always comply with applicable laws and regulations, and obtaining the necessary permissions is essential before tracking a device.
How can you track a phone for free?
While there are free apps available that claim to track phones, they often lack accuracy and offer limited features. These apps might serve basic needs but fall short of more comprehensive and reliable tracking.

For a professional, accurate, and feature-rich option, consider a paid service like SPYERA.

Although it's not free, SPYERA provides a wide range of advanced tracking capabilities, including real-time location tracking, location history, and more. It's a robust solution designed to meet the needs of those seeking detailed and reliable tracking information. Remember, investing in a paid service often means better customer support, more features, and improved accuracy.
How can I track someone's cell phone without their knowledge?
While it's important to note that tracking someone's cell phone without their knowledge is generally considered unethical and often illegal, some native solutions might be used for legitimate purposes, such as locating a lost family member's phone.
The "
Find My
" service can track the device's location for iPhones, provided you have the necessary permissions (like the Apple ID and password). Similarly, the "
Find My Device
" feature can be used for Android phones if you have the associated Google account credentials.
However, these native solutions have limitations and are not designed for comprehensive tracking. They require the device to be connected to the internet, and if the device is turned off or the feature is disabled, tracking becomes impossible.
For a more robust and reliable solution, consider using SPYERA. This professional tracking app runs in stealth mode and provides various tracking capabilities, including real-time location tracking, call monitoring, and more. It's designed to be undetectable and does not require the tracked device always to be connected to the internet. However, obtaining the necessary permissions and complying with all applicable laws when using such software is crucial.
Can I track a cell phone with just a number?
Tracking a cell phone with just a number is technically possible, but it's not typically available to the general public due to privacy concerns and legal restrictions. Certain emergency services and law enforcement agencies may be able to do this, but it's not something that an average person can usually do.

If you're looking to track a cell phone and have more than just the number - for example, if you have access to the phone itself - consider using a service like SPYERA.

This professional tracking app provides a wide range of tracking capabilities, including real-time location tracking, call monitoring, and more. However, obtaining the necessary permissions and complying with all applicable laws when using such software is crucial.

Barbara D.
Verified Customer
I saw SPYERA on a news channel a while ago. I have never thought that I will need SPYERA. My grandpa has difficulties to find the home. He gets lost very frequently. All family members were worried about that. We decided to purchase the cheapest Android phone. Then we installed SPYERA on it to track my grandpa. I renewed my annual subscription 3 times and I am very happy with SPYERA. Thanks a lot.








Anna K. (Verified Customer)

It worked for me. I discovered everything I need within a month. I got all recorded phone calls without rooting the target device. I also purchased the computer monitoring version because I didn't want to miss anything. I only had problems to contact support. Their response time is around 7-8 hours. It should not be more than a few hours. The rest of was perfect. I highly recommend it.

Adil Faysal (Verified Customer)
I tested many spy apps but I only keep using SPYERA since 2011. The main reason I am using SPYERA is their call interception feature. Only SPYERA can offer call interception. Also, I like remote the update which is a great feature. My target user gets every single update of WhatsApp. Competitors need re-installation again and again for updates. It ridiculous when you have limited time to physical access to the target phone. With SPYERA all done remotely.

Tarık Emre Y.
(Verified Customer)
I like the way SPYERA get the update to the latest version. The remote update is excellent. With Spy phone, the most difficult part is accessing to the target phone. With the remote update, I accessed the target device one time a year ago. Since then I am using the remote update to get the latest features. The only problem I have with SPYERA is that sometimes support team response the next day. Support needs some improvement. The rest of the service is perfect.