Track Any Cell Phone with Hidden Phone Tracker
The most powerful and undetectable cell phone tracking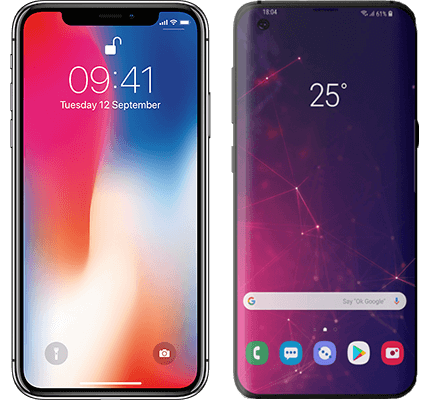 GPS Tracking - Track their GPS location in real-time
Track SMS messages, text messages and deleted messages
Read Facebook, Skype, WhatsApp, Tinder, Snapchat, iMessage, LINE etc
Capture pictures, videos, and audio
Phone Keylogger included. Record keystrokes to see anything typed
Make Spy Calls - listen live to phone environment
Intercept Call - listen to live phone calls
Record phone calls and surroundings
Spy on Calendar, Notes, Bookmarks, Web History
Monitor Social Media accounts
Alert Wizards and Event Flagging
Easy to install, step-by-step guide with screenshots
Free updates and device changes during the subscription
100% UNDETECTABLE AND INVISIBLE PHONE TRACKING APP
A ton of advanced features in a single mobile phone tracking app
LISTEN TO PHONE CALLS
Listen to Live Calls
SPYERA allows you to spy on phone calls on any cell phone. It's like having a direct line on every call, hearing it live as it happens. You receive a secret SMS alert. If you then call the target mobile, you will be added to the live calls and listen in real-time.
MONITOR CHAT APPS
IM Tracker
SPYERA is the only phone tracker that can spy on all popular messaging apps. Track messages on Facebook, WhatsApp, FaceTime, Skype, LINE, Viber, Snapchat and many more. See the conversation, including the stickers, status, profiles, pictures, locations, and emoticons.
PHONE CALLS RECORDING
Live Call Recording
Call recording records phone calls on iPhone or Android phones in both ways. You can record any call made to or from the target phone. Recorded calls will be sent to your web account. You can listen to or download recorded calls anytime, anywhere. SPYERA is the only software that can record phone calls.
AMBIENT LISTENING
Listen To Surroundings
Hear what's happening around the target phone. Open the microphone and listen to the phone's surroundings. Remotely turn on the target mobile phone's microphone. Listen to the phones' surroundings, like a bugging device (conversations in the room, etc.).
SPY ON PHOTOS
Monitor Media Files
Cell​ phone tracking allows you to access all media files remotely. Get all the photos they take or are already on their mobile devices. Hear all audio and voice memos. Even if they delete media files, you will still have a copy on your web account.
KEYSTROKE RECORDER
Phone Keylogger
See everything that's being typed. Cell phone keylogger lets you see everything that's typed on the keyboard. Discover search terms, notes, passwords and more.
SMS TRACKER
Spy On Text Messages
Mobile phone tracking software captures all text messages. Remotely read all incoming and outgoing SMS. Spy on text messages, even those that may have been deleted. See details such as contact names and numbers associated with SMS messages, including date and time.
PHONE SPY CAMERA
Open Camera Remotely
Turn on the target phone's front or back camera remotely. Using the target phone's camera, you can take photos or videos remotely and view them later from your web account. Spy Camera for mobile is a powerful mobile surveillance feature.
RECORD VOIP CALLS
Spy on VoIP Calls
Record VOIP calls on Facebook, Skype, Viber, WhatsApp, Line, and Hangouts. If the target phone makes or receives calls, these calls will be automatically recorded and uploaded to your web account. You can listen to or download it at any time.
AMBIENT RECORDING
Record Phone Surroundings
Remotely enable the target phone's microphone. Set the ambient recording to be recorded immediately or scheduled. Surroundings' voices will be recorded, and files uploaded to your web account. You can listen to or download it at any time.
GPS PHONE TRACKER
GPS Location Tracker
GPS Tracker uses real-time GPS positioning to show the coordinates of the target phone. See the phone's exact and accurate location, and track movements and visited places on a detailed map. You can easily track the phone from your web account.
EMAIL TRACKER
Spy on Emails
Know exactly what emails are being sent from their cell phones. The tracking app captures Emails sent to your web account. Phone Email tracker captures all their emails. The contact name will also be available if the email address is in the phone's address book.
VIEW ALL FEATURES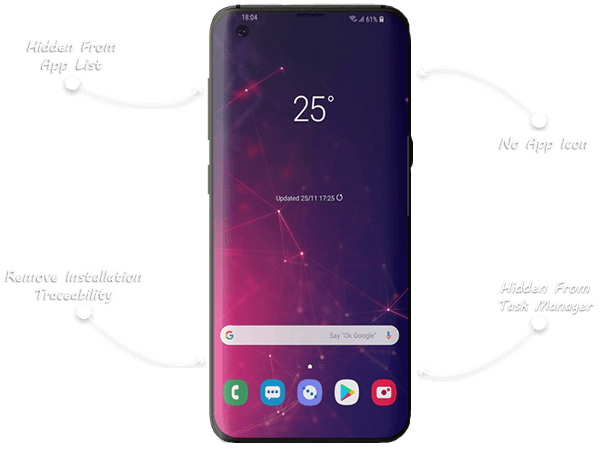 The Best Phone Tracker App
SPYERA runs in the background without any evidence. It is the only 100% undetectable and hidden phone tracker. It does not affect performance or battery drain. It is hidden from the launcher and home screen of the task manager.
Hide Jailbreak and Root Evidence
SPYERA lets you hide its icon, the CYDIA icon and Root evidence on Android devices. They'll never know their device has been jailbroken and rooted.
GET STARTED
INVISIBLE
Can run 100% invisible or visible. Undetectable, runs in the background without any evidence.
MORE FEATURES
Offers everything competitors have plus extra 70 features that no one else can offer.
MORE DEVICES
Offers Unlimited instant device changes during subscription
REMOTE CONTROL
Provides remote updates, remote upgraded, remote settings changes, and remote uninstall
SPYERA VS COMPETITORS
Click here to see the full features, detailed comparison list with competitors.
LEARN MORE
How Does It Work?
SPYERA is easy to setup and use

Most Frequent Questions And Answers About Phone Tracker
Phone Tracker is a hidden spy application. You need to install the app on the target device. The program inserts logs of activities into your online web account. You can log in to your account from any web browser to view logs.

Phone Tracking App is the best tool to protect your kids. Kids phone tracker is an invisible cell phone application. Child phone tracker allows you to track your kids. The cell phone tracker app works in the background. SPYERA is the best cell phone tracker app.
Since 1999, when we created the world's first spy phone, we continue to design, develop, test, market and support all our own products. Nothing is outsourced and everything is done under one roof. Unlike others, we also offer a genuine 10-day, no-quibble money-back guarantee.

Choose SPYERA, and get unique features like Call Intercept, ambient listening, Chat Apps tracker… You also get quality created over a decade of technology experience that has been used by over a million people. Moreover; you can track all the social networks and web activities through a user-friendly control panel.
Children are surrounded by technology that parents barely understand. When it comes to discussing the hidden tracker, the majority of people think of some malicious spyware. Indeed, tracking apps can be used for spying on someone, such as your children, or your employees. You can even develop a personalized plan for tracking your own phone with advanced phone tracking solutions. Moreover; you can track all the social networks and web activities through a user-friendly control panel.

Track Your Child's SMS Activities
Learn what your child or employee is texting. Logs the content of every SMS and MMS message sent or received to protect your kids from cyberbullying. We offer you access to SMS details of your child's phone so that you always know when your child sends or receives text messages. Access to text message information is easy, and you can monitor SMS messages via your own phone or from your computer. You can also access deleted messages.

Spy On Your Children's Multimedia Messages
Discover what photos are taken on the smartphone. View photos were taken by the target phone remotely. In the world of rising cyberbullying and paedophilia, as well as the earlier involvement of children in sexually explicit activities. See what video your son is viewing and what pictures your daughter is sending, you should keep your hand on the pulse of your child's multimedia streams.

Mobile Phone Tracker App Provides GPS Monitoring
Find out exactly where your child or employee is. View a map of logged locations. Knowing where your child is at any given moment is the cornerstone of the child's safety and parents' confidence about it. Tracker Software relieves you from stress by constantly providing data on the child's location because of the integrated GPS tracker. Use GPS location monitoring to track kids' phone locations while you are travelling. Moreover, you can trace the history of your child's geographical movements for the past couple of hours or even days, which also gives an idea of potential dangers.

Tracking Apps Enables Instant Message Spying
Check the photos and videos sent via instant messages and a variety of chat apps. No matter what kind of a messenger your child prefers. SPYERA tracks Viber, WhatsApp, Skype, Snapchat, Telegram, Tinder, and other apps allowing children to hold secret, sincere discussions and sometimes share provocative content. Know whether your child is seduced into any risky activities or social interactions.

Track Internet Activities
Monitor the Internet connection of the target device. See all browsing history and bookmarks. You can remotely track their Internet browsing activity even if it's deleted.
You can only install SPYERA on one device per license purchase. However, you can deactivate and move that license to another device as many times as you want during your subscription.
SPYERA offers you the choice of visibility. You can choose to hide the software icon after you install SPYERA.
You want the best for your children — so why would you settle for anything less in your phone tracking software?

When you choose the SPYERA cell phone tracker, not only are you getting one-of-a-kind features but also a decade of mobile software experience and proven technology that's been used by over a million people around the world.

More monitoring features than any other product on the market.

More information about who your children are talking to, what they are talking about, and what they are viewing when on their phones or computers.

More device support means you have the best tracker app for Android, iPhone, and tablet devices.

Undetectable and Hidden – Select if you want the mobile phone tracker to be detectable or undetectable based on the needs of your family.
Tracking software can be installed on iPhones, iPad and Android Phones and Android Tablets. It is also available for Windows and Mac. Please click here to see all the details about the compatibility and requirements.
Yes, remote installation is not possible.
Yes. You can request a refund within 10 days of purchase.
We don't think you will ever need such a service because our installation guide is step-by-step, and we have screenshots for each step. However, if you need hassle-free installation, we have a partnership with a third-party IT expert. They will help you with the installation at a very low cost.

Barbara D.
Verified Customer
I saw SPYERA on a news channel a while ago. I have never thought that I will need SPYERA. My grandpa has difficulties to find the home. He gets lost very frequently. All family members were worried about that. We decided to purchase the cheapest Android phone. Then we installed SPYERA on it to track my grandpa. I renewed my annual subscription 3 times and I am very happy with SPYERA. Thanks a lot.








Anna K. (Verified Customer)

It worked for me. I discovered everything I need within a month. I got all recorded phone calls without rooting the target device. I also purchased the computer monitoring version because I didn't want to miss anything. I only had problems to contact support. Their response time is around 7-8 hours. It should not be more than a few hours. The rest of was perfect. I highly recommend it.

Adil Faysal (Verified Customer)
I tested many spy apps but I only keep using SPYERA since 2011. The main reason I am using SPYERA is their call interception feature. Only SPYERA can offer call interception. Also, I like remote the update which is a great feature. My target user gets every single update of WhatsApp. Competitors need re-installation again and again for updates. It ridiculous when you have limited time to physical access to the target phone. With SPYERA all done remotely.

Tarık Emre Y.
(Verified Customer)
I like the way SPYERA get the update to the latest version. The remote update is excellent. With Spy phone, the most difficult part is accessing to the target phone. With the remote update, I accessed the target device one time a year ago. Since then I am using the remote update to get the latest features. The only problem I have with SPYERA is that sometimes support team response the next day. Support needs some improvement. The rest of the service is perfect.