Spy On Any iPhone By Our Undetectable iPhone Spy App
The most potent and Hidden iPhone Tracker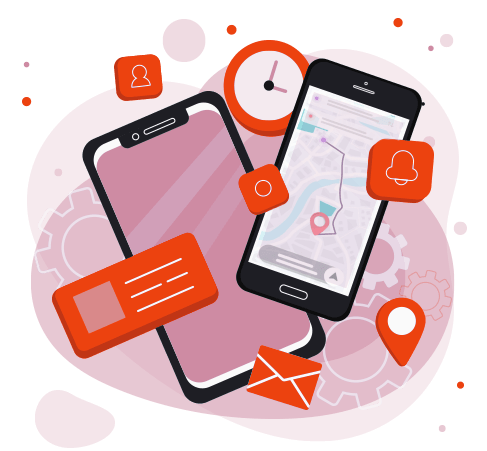 Listen to iPhone calls in realtime, or record calls to listen anytime (only where legal)
Remotely open the microphone and listen to the iPhone's surroundings
Spy on Chat Apps. Facebook, WhatsApp, Snapchat, Viber, Skype, and 15 more apps
Record iPhone VoIP Calls: Skype, Facebook, Viber, LINE, WhatsApp and more
iPhone Keylogger included. Record keystrokes to see anything typed on iPhone
View all Pictures, Videos and Audio stored on the iPhone
Remotely control the iPhone's camera to take pictures or videos
View SMS, Email, Web history, Bookmarks, App usage, Address book, Notes, Calendars
Track iPhone location with the real-time GPS tracker
The best iPhone spy app - 15 years of experience
Has the option to run it in 100% invisible mode or visible mode
Easy to install, step-by-step guide with screenshots
Free updates and device changes during the subscription
100% UNDETECTABLE AND HIDDEN IPHONE TRACKER
A ton of advanced monitoring technology in a single spy app
LISTEN TO PHONE CALLS
iPhone Live Call Listening
iPhone Spyphone lets you spy on phone calls taking place on any iPhone. It's same as having a direct line onto every call, hearing it live as it happens. You receive a hidden SMS alert. If you then call the target mobile, you will be joined to the live calls and listen in real-time.
AMBIENT RECORDING
Record iPhone's Surroundings
Remotely enable the target iPhone's microphone. You can start to record immediately or schedule for specific date/time. Surroundings sounds will be recorded and records will be upload to your web account. You can listen or download at any time.
PHONE CALLS RECORDING
iPhone Live Call Recorder
Call recording records iPhone calls in both ways. You can record any call made to or from the target iPhone. Recorded calls will be sent to your web account. You can listen or download recorded calls anytime, anywhere. SPYERA is the only software that can record phone calls.
AMBIENT LISTENING
Listen To Surroundings
Hear what's happening around the target iPhone. Open the microphone and listen to the phone's surroundings. Remotely turn on the iPhone's microphone. Listen to the user and the user's surroundings like a bugging device (conversations in the room etc).
MONITOR CHAT APPS
IM Tracker
SPYERA is the only spy phone that can spy on all popular messaging apps. Track messages on Facebook, WhatsApp, Tinder, FaceTime, Skype, LINE, Viber, Snapchat and many more. See conversation including the stickers, status, profiles, pictures, locations, and emoticons.
SMS TRACKER
Spy On Text Messages
iPhone spy software captures all text messages. You can read all incoming and outgoing messages remotely. Spy on text messages, even those that may have been deleted. See details such as contact names, and numbers linked with SMS messages, including date and time.
RECORD VOIP CALLS
Spy on VoIP Calls
Record VOIP calls on Facetime, Facebook, Skype, Viber, WhatsApp, Line, and Hangouts. If the target user makes or receives calls, then these calls will be automatically recorded and uploaded to your web account. You can listen or download at any time.
EMAIL TRACKER
Spy on E-mails
Exactly know what emails being sent from their iPhone. iPhone Spy Phone captures E-mails and sent them to your web account. iPhone email tracker captures all their emails. If the e-mail address is in the phones address book, the contact name will also be available.
SPY CAMERA
Open Camera Remotely
Turn on the target iPhone's front or back camera remotely. Take photos or videos using the camera and view it later from your web account. Spy Camera for iPhone is a powerful mobile surveillance feature. Competitors don't offer this feature!
SPY ON PHOTOS
Monitor Media Files
iPhone Tracker allows you to access all media files remotely. Get all the ​photos they take or that are already on their iPhone. Hear all audio and voice memos. Even if they delete media files, you will still have a copy on your web account.
TRACK LOCATION
GPS Location Tracker
iPhone Tracker uses real-time GPS positioning. It shows the coordinates of the target phone. Location linked the map inside your web account. You can display a path of travel between certain periods. You can easily track the phone's location from your web account.
KEYSTROKE RECORDER
iPhone Keylogger
See everything that's being typed. iPhone key-logger lets you see everything that's typed on the keyboard. Find search terms, notes, passwords and more. Captured keystrokes will be uploaded to your web account automatically.
VIEW ALL FEATURES
iPhone Tracker is undetectable
SPYERA operates in the background without any evidence. It is the only 100% undetectable iPhone Spy App on the market. It does not affect performance or battery drain. It is hidden from the launcher, including the home screen, and hidden from the task manager.

It Can Hide Jailbreak Evidence
SPYERA allows you to hide its icon, as well as the CYDIA icon. They'll never know their device has been jailbroken.
GET STARTED
INVISIBLE
It can run 100% invisible or visible. It is undetectable and runs in the background without any evidence.
MORE FEATURES
It offers everything competitors have plus extra 70 features that no one else can offer.
MORE DEVICES
Offers Unlimited instant device changes during subscription
REMOTE CONTROL
Provides remote updates, remote upgraded, remote settings changes, and remote uninstall
SPYERA VS COMPETITORS
Click here to see the full features, and detailed comparison list with competitors.
LEARN MORE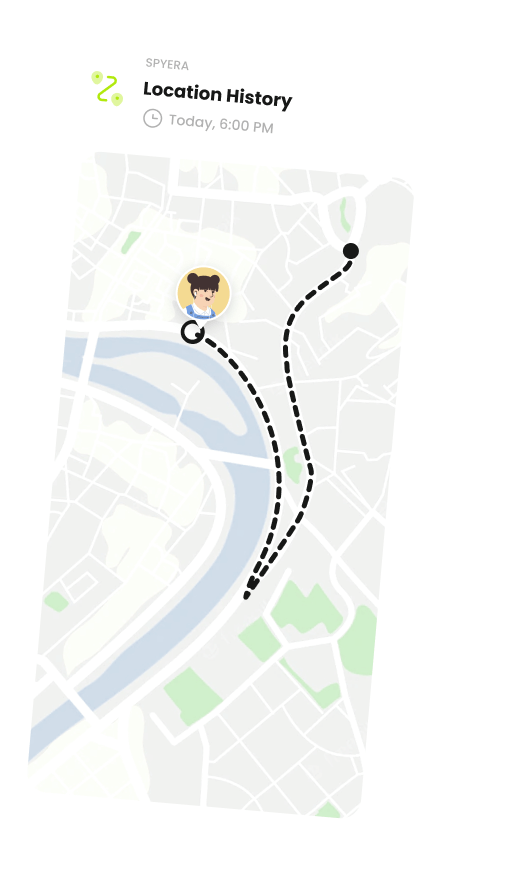 iPhone Spy App is Essential for Parents
If you're a concerned parent looking for an effective way to monitor your child's activities on their iPhone, then an iPhone spy app is the solution you need.
These spy apps for iPhone are designed to allow you to keep an eye on your child's phone usage, track their whereabouts, and even listen in on their conversations through a spy listening app for iPhone.
With so many secret iPhone trackers in the market, it can be hard to determine which is best for your needs. However, after researching and analysing various iPhone spy software, we highly recommend SPYERA as the best iPhone Spy App after dressing an extensive range of features, including call recording, message tracking, and GPS tracking, a comprehensive solution for all your monitoring needs.
So, if you want to keep your children safe, install SPYERA, and you'll be able to keep tabs on their iPhone activities without any hassle.
How Does It Work?
SPYERA is easy to setup and use

iPhone Spy App
Most Frequently Asked Questions
Can you spy on someone with your iPhone?
There are legitimate use cases for tracking or monitoring someone with their consent, such as tracking a child's location or a lost device.
In these cases, you can use SPYERA or the Find My app on your iPhone to track your device or those belonging to your family members, provided they have permitted you and are using the same
Apple
ID.
SPYERA iPhone spy app for parents helps you track your kids and their activities on their iPhones.
There are a variety of spy apps for iPhones. Most free and cheapest iPhone spy apps are visible or easily detected. However, SPYERA is hidden and cannot be detected.
Is there an app to see what someone is doing on their iPhone?
Parental control and monitoring apps are available that allow you to monitor and manage another person's iPhone usage, such as SPYERA. SPYERA iPhone Tracker app is designed for parents or guardians to monitor their children's online activities and ensure their safety.

Is there an app to see if someone is spying on your iPhone?
While there isn't a specific app designed to detect spying on an iPhone, you can take some steps to identify potential signs of unauthorised monitoring or intrusion.

Check for unusual apps: Look through your installed apps and see if there are any unfamiliar or suspicious ones. If you find any, research the app, its functionality, and its developer. If you still have doubts, remove the app.

Check for jailbreaking: Unauthorized monitoring apps often require a jailbroken device to function. Look for apps like Cydia or check if your iPhone has any signs of being jailbroken, such as unexpected behaviour or appearance changes.

Monitor battery usage: Monitoring apps can consume significant battery power. Go to Settings > Battery to see if any unknown apps use excessive battery power.
Pay attention to device performance: If your iPhone is running slower than usual, crashing, or experiencing unusual behaviour, it could indicate unwanted monitoring software.

Update your iOS: Regularly updating your iPhone's iOS can help protect against potential security vulnerabilities.

Use strong passwords and two-factor authentication: Ensure you use strong, unique passwords for your Apple ID and other accounts, and enable two-factor authentication wherever possible.

Remember, SPYERA iPhone Tracker is hidden, and it has battery optimisation. It also can hide jailbreak evidence.
Can you track iPhone by SPYERA?
SPYERA is a monitoring software that tracks and monitors various devices, including iPhones.
What is iPhone Tracker?
iPhone Tracker is an application that you install onto an iPhone. It helps you to keep your loved ones, your business, and your personal information safe.

It lets you remotely see everything happening on an iPhone from any web browser.

Our software provides the best monitoring solution for employers, parents, and even personal users who understand the importance of protecting their businesses, personal information and loved ones.

With over 200 features and more added daily, SPYERA gives you more options than competitors.

SPYERA is unique — having the ability to listen and record live phone calls and phone surroundings, as well as VoIP calls made on Skype, WhatsApp, Viber, and many more. You won't find these features anywhere else.

SPYERA is the only Spy App that can monitor text messages even if they have been deleted. This feature makes SPYERA the most potent text message-spying app. Monitoring iPhone text messages lets you see all sent and received text messages on the target iPhone. In this respect, SPYERA is unique.

So, if you're a parent or employer responsible for how your iPhone devices are being used — then only SPYERA can give you the answers you need.
How to Install iPhone Spy Software?
Installing iPhone Spy Software is easy and takes only a few minutes.

You'll need to download the monitoring software to the mobile phone that you'd like to monitor. You must jailbreak your iPhone to get the most out of the advanced features. This is required for all iOS devices.

You need to have the target device in your hand. Ensure you have an Internet connection. Place your SPYERA order. You will receive a welcome email which contains your download URL, your web account login credentials and the user manual.

To start monitoring the cell phone, install and activate SPYERA. We provide the user manual. The user manual is step-by-step, and each step has a screenshot.
How to Use iPhone Tracker?
Once installed, it will run in the background without any evidence. 
The iPhone Tracker will start recording everything.

The data is uploaded to your online web account. You can view usage and activity reports from your web account.

Log in to your Web Control Panel and start spying on text messages, call logs, GPS location and other activities on the target iPhone.
Is iPhone Tracker visible?
SPYERA iPhone Tracker offers you the choice of visibility. You can choose to hide the software icon after you install SPYERA.
Can I change my license from iPhone to Android?
Yes, and you don't need to change anything. Your license can be used on any compatible device and platform.
What iPhone models are supported?
SPYERA supports most Android devices. If you want to see if your phone is supported, visit our
compatibility
page.

Barbara D.
Verified Customer
I saw SPYERA on a news channel a while ago. I have never thought that I will need SPYERA. My grandpa has difficulties finding his home. He gets lost very frequently. All family members were worried about that. We decided to purchase the cheapest Android phone. Then we installed SPYERA on it to track my grandpa. I renewed my annual subscription 3 times and I am very happy with SPYERA. Thanks a lot.








Anna K. (Verified Customer)

It worked for me. I discovered everything I need within a month. I got all recorded phone calls without rooting the target device. I also purchased the computer monitoring version because I didn't want to miss anything. I only had problems contacting support. Their response time is around 7-8 hours. It should not be more than a few hours. The rest was perfect. I highly recommend it.

Adil Faysal (Verified Customer)
I tested many spy apps but I only keep using SPYERA since 2011. The main reason I am using SPYERA is their call interception feature. Only SPYERA can offer call interception. Also, I like remote updates which is a great feature. My target user gets every single update of WhatsApp. Competitors need reinstallation again and again for updates. It is ridiculous when you have limited time to have physical access to the target phone. With SPYERA all is done remotely.

Tarık Emre Y.
(Verified Customer)
I like the way SPYERA get the update to the latest version. The remote update is excellent. With Spy phone, the most difficult part is accessing the target phone. With the remote update, I accessed the target device one time a year ago. Since then I am using the remote update to get the latest features. The only problem I have with SPYERA is that sometimes the support team response the next day. Support needs some improvement. The rest of the service is perfect.