Spy On Any Android With Our Undetectable Android Spy App
The Best Hidden Spy App for Android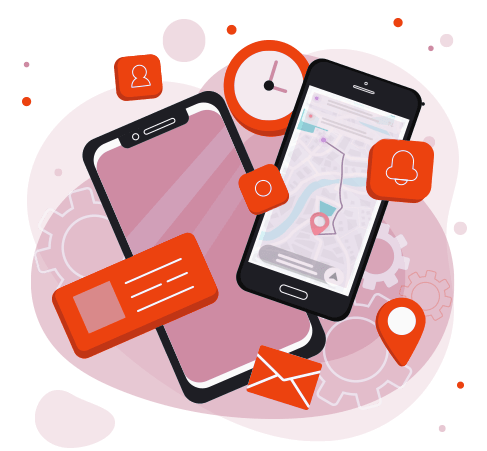 Listen to phone calls in realtime, or Record to listen at any time (only where legal)
Spy on chat applications. Facebook, Viber, Snapchat, WhatsApp + 11 more IMs
Record Android VoIP Calls: Skype, Facebook, Viber, LINE, WhatsApp and more
Turn on the microphone and listen to the Android's surroundings or record
Android Keylogger included. Record keystrokes to see anything typed on the Android
Spy on SMS, MMS, Emails, Web History, Photos, and Videos
Track device locations with a realtime GPS tracker
Track device browser history
Easy to install, step-by-step guide with screenshots
Runs in 100% hidden and undetectable or visible mode
Free updates and device changes during the subscription
100% UNDETECTABLE AND HIDDEN ANDROID TRACKER
A ton of advanced monitoring technology in a single hidden spy app for android
LISTEN TO PHONE CALLS
Android Live Call Listening
Android Spyphone lets you listen to live calls on the target phone. You can receive a secret SMS alert when the call starts. If you then call the target phone from a pre-defined number, you will be added to the live call.
AMBIENT RECORDING
Record Phone Surroundings
Remotely enable the target Android's microphone. Set the ambient recording to be recorded immediately or scheduled. Surroundings' voices will be recorded, and files uploaded to your web account. You can listen to or download it at any time.
PHONE CALLS RECORDING
Live Call Recording
Android Spy Software records phone calls in hidden sound files and uploads these files to your web account. You can listen to or download recorded files anytime. You can choose all or specific phone numbers to be recorded automatically.
AMBIENT LISTENING
Listen To Surroundings
Hear what's happening around the phone. Remotely open the target phone's microphone to listen to the phone's surroundings. Use the target phone as a bugging device. Listen to conversations in the room, etc. Hear what's happening!
MONITOR CHAT APPS
Spy on Chat Apps
Spy on over 22 popular Android messaging apps, including WhatsApp, Snapchat, Facebook Messenger, Viber, Skype, Hangouts, Tinder, and many more. See chats in both ways, including the stickers, status, profiles, pictures, locations, and emoticons.
TRACK SMS
Spy On Text Messages
Android tracker captures text messages sent or received on an Android phone, even those that may have been deleted. See details such as contact names and numbers associated with SMS messages, including date and time.
LISTEN VOIP CALLS
Spy on VoIP Calls
Android Phone Tracker can record VOIP phone calls, including the call log details. Record Android VoIP Calls: Skype, Facebook, Viber, LINE, WhatsApp. You can listen to or download it anytime from your SPYERA web account.
MONITOR EMAILS
Spy on E-mails
Android cell phone spy lets you know precisely what is being sent or received on an Android phone. Android email tracker captures all their email messages. The contact name will also be available if the e-mail address is in the phone's address book.
SPY CAMERA
Open Camera Remotely
Take pictures remotely with an Android cell phone tracker. Turn on the Android phone's rear camera remotely. Remotely activate the front and back Android phone camera to take a photo, which will be uploaded to your web portal.
SPY ON PHOTOS
View Media Files
Monitor Android allows you to remotely access all media files on an Android phone. Get all images they take or are already on their Android phone. Hear all audio and voice memos. Even if they delete media files, you will still have a copy on your web account.
GPS TRACKING
GPS Location Tracking
Android tracker uses GPS positioning to show the coordinates of the Android phone. Location linked to the map inside your web account and display a path of travel between specific periods. Export paths for use in other applications like Google Maps.
KEYSTROKE RECORDER
Android Keylogger
See everything that's being typed. Android keylogger lets you see everything typed on the phone's keyboard. Discover search terms, notes, passwords and more. Captured keystrokes automatically upload to your web account to view and download.
VIEW ALL MONITORING FEATURES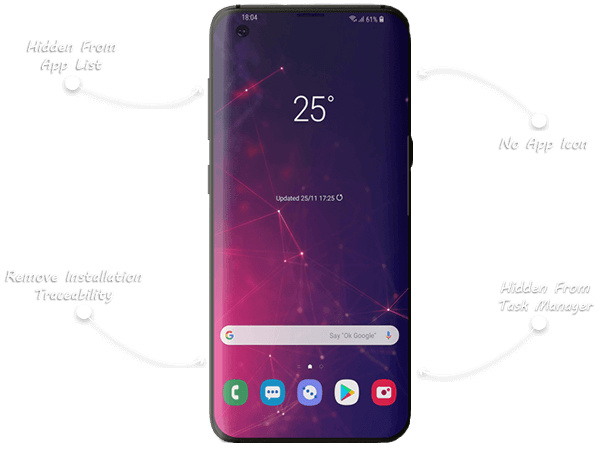 Completely Undetectable
SPYERA is the only undetectable monitoring app for Android. It runs in the background without any evidence. Undetectable Android Spy App does not affect performance or battery drain. SPYERA Android Spy phone is hidden from the launcher, and home screen, hidden from the task manager. Hidden spy apps for Android are available for immediate download. Monitor Android in Stealth mode!
It Can Hide Root Evidence
Rooting an Android is the only way to truly experience all the great features SPYERA offers for spying on Android phones. Rooting leaves a visible SuperSU icon on their Android phone; only SPYERA has the knowledge and power to remove and hide this.
GET STARTED
INVISIBLE
It can run 100% invisible or visible. Android tracking app runs in the background without any evidence.
MORE FEATURES
It offers everything competitors have, plus 70 features that no one else can contribute to monitoring Android.
MORE DEVICES
Offers Unlimited instant device changes during subscription
REMOTE CONTROL
Provides remote updates, remote upgrades, remote settings changes, and remote uninstall
SPYERA VS COMPETITORS
Click here for the full features and a detailed comparison list with competitors.
VIEW COMPARISON CHART
Spy App For Android Phones
Spy On Android
Install SPYERA Android monitoring software to spy on Android messages, applications, phone calls and surroundings. With a unique call interception feature, SPYERA has more Android spy app features than the rest.
Spy On Mac
Spy on any Mac with our powerful Mac OS computer monitoring software. SPYERA is the best computer monitoring software because you can read popular IM chats and emails, record browser activity, monitor Mac devices and more.
Spy On Windows
SPYERA for Windows PC offers 40+ features - many of which cannot be found anywhere else. Not all computer spy apps are created equal. SPYERA gives you information, insights and clues that no one else can.
How Does It Work?
SPYERA is easy to set up and use
Android Spy App
Most Frequently Asked Questions
What are spy apps disguised as on Android?
Spy apps on Android can be disguised as various applications, making them hard to detect. Here are some common disguises used by spy apps on Android:

Utility apps: Spy apps can be disguised as utility apps, such as battery-saving apps, QR code scanners, or flashlight apps. These apps are commonly used by people and often go unnoticed.

Social media apps: Some spy apps can also be disguised as popular social media apps like Facebook or Instagram. Since many commonly use these apps, it's easy for them to blend in with the other apps on the phone.

Productivity apps: Spy apps can also be disguised as productivity apps, such as note-taking apps, calendar apps, or to-do list apps. These apps are commonly used and can easily be overlooked.

Gaming apps: Some spy apps may be disguised as gaming apps, such as puzzle games, racing games, or action games. These apps are also commonly used; many people have multiple games installed on their phones.

It's important to note that spy apps are designed to be stealthy, so they can be disguised as almost any type of app. Users should be careful when downloading apps from third-party sources and only from trusted sources such as the Google Play Store.

Additionally, users should regularly check their app list to ensure they don't have any suspicious apps installed on their phones.

Finally, SPYERA Android Spy App is invisible, unlike any of these. It does not pretend to be anything with copy icon or name. It is invisible and working in the background.
How can I tell if my phone has a spy app on it?
It can be challenging to tell if your phone has a spy app installed on it, as these apps are often designed to be stealthy and operate in the background without drawing attention to themselves. However, here are some signs that may indicate the presence of a spy app on your phone:

Unusual battery drain: Spy apps can consume much battery power as they operate in the background, even when you're not actively using your phone. If you notice your phone's battery draining faster than usual, it could be a sign that there's a spy app running on your device.

Increased data usage: Spy apps can also use such data to send information back to the person who installed the app. If you notice a sudden increase in data usage, it could be a sign of a spy app on your phone.

Strange behaviour: If your phone behaves in unusual ways, such as taking longer to boot up, freezing or crashing frequently, or showing unusual error messages, it could be a sign of a spy app on your phone.

Unusual background noise: Some spy apps allow the person who installed the app to listen in on your phone calls or record ambient sounds in the background. If you hear unusual background noise during phone calls or while using your phone, it could be a sign of a spy app on your phone.

Suspicious apps: If you notice any unfamiliar apps on your phone that you don't remember installing, it's possible that they could be spy apps. You should check your app list regularly and uninstall any suspicious apps.

If you suspect your phone has a spy app, try running a malware scan using an antivirus app. This can help detect any malicious software on your device, including spy apps. If you're still concerned, you can factory reset your phone to remove any unwanted software and start fresh. However, be sure to back up your important data before doing so.
What app can I download to see if my husband is cheating?
Spying on your partner without their consent is unethical, and using an app to see if your husband is cheating without his knowledge or permission would violate his privacy. Additionally, most spy apps that claim to help you catch a cheating partner are unethical, potentially illegal, and could lead to severe consequences.

Instead of trying to spy on your partner, it's better to communicate with them openly and honestly about your concerns. If you're worried your husband may be cheating, talk to him about your feelings and try to have an open and honest conversation about your relationship.

If you're still worried, please consider seeking the help of a licensed therapist or counsellor who can help you navigate your feelings and address your worries healthily.

It's important to remember that spying on your partner is not a healthy or productive way to address relationship issues. Trust and communication are critical components of a healthy relationship, and violating your partner's privacy can damage that trust and cause more harm than good.
What is the best app to detect spyware on Android?
Several apps on the Google Play Store can help detect spyware on an Android device.
Here are some of the best apps:
Malwarebytes: This popular anti-malware app can scan your phone for spyware and other malicious software.
Avast Mobile Security: Avast is another popular antivirus app that detects and removes spyware from your phone.
Norton Mobile Security: Norton is a comprehensive security app that detects and removes spyware, malware, and other threats.
Kaspersky Mobile Antivirus:
Kaspersky
is a well-known antivirus software provider offering an Android mobile security app. The app can scan your phone for spyware and other malicious software.
McAfee Mobile Security: McAfee is a trusted name in the antivirus industry and offers a mobile security app for Android that can detect and remove spyware.
It's important to note that no app can guarantee 100% protection against spyware and other types of malicious software. However, using a reputable antivirus app can help reduce your risk of infection and provide an extra layer of security for your device. It's also essential to practice safe browsing habits and avoid downloading apps from unknown sources to reduce your risk of malware and spyware infection.
️ What are the Best undetectable Spy Apps for Android?
There is a variety of spy Apps available for Android. Most of these apps are claimed to be undetectable and designed to operate in stealth mode, making it difficult for the person being monitored to detect their presence. However, we have tested almost every spy app on the market. Most were visible as utility tools such as calculators, radio, etc., and were easily detected.

SPYERA Android Spy App is entirely undetectable, and it is an invisible Android Spy app. It is a lot of advanced features that help you to find the truth without hassle.
What is an Undetectable Android Spy App?
An undetectable app is a software application designed to operate stealthily on an Android device without being detected by the device user. These apps are typically used to monitor the activities of a target device, such as tracking phone calls, text messages, emails, social media activity, and other data.

Undetectable spy apps work by running in the background of the target device, collecting data, and transmitting it to a remote server that can be accessed by the person who installed the app. The app is designed to be invisible and to operate without the knowledge or consent of the person being monitored.

SPYERA is a spy app designed to run on Android devices and allows users to monitor and track the target device's activities remotely. The app is undetectable and runs in the background, allowing the user to track phone calls, text messages, emails, social media activity, and other data from the target device.

Some of the features of the SPYERA app include call interception, GPS tracking, keylogging, live call recording, ambient recording, and remote camera control. The app also claims to be compatible with many Android devices, including both rooted and non-rooted.
Are there any free spy apps?
While free spy apps may be available on the internet, it's essential to be cautious when downloading and using such apps. Free spy apps may be unreliable and contain malware or other security vulnerabilities that could compromise your device's and data's safety and security.

It's important to note that using spy apps to monitor someone without their knowledge or consent is illegal and unethical. Additionally, reputable spy apps that offer advanced features and reliable performance typically require a subscription or payment plan to access their full range of features and services.

Suppose you're looking for a reliable and trustworthy spy app. In that case, choosing a reputable provider offering a free trial period or money-back guarantee is recommended to test the app's features and performance before committing to a subscription or payment plan. It's also important to thoroughly research the app and read reviews from other users before downloading and using any spy app.

SPYERA Android Spy App offers an unconditional ten days money-back guarantee so you can test the full version of the software.
How much does it cost to use spy apps?
The cost of a spy app varies depending on the provider, the features offered, and the subscription or payment plan length. Some spy apps offer essential features for free but typically require a paid subscription or payment plan to access more advanced features and services.

Most reputable spy app providers offer a range of subscription plans to suit different budgets and needs, typically from $30 to $90 per month. Some providers may also offer annual or lifetime subscriptions, which can provide significant savings compared to monthly subscription plans.

SPYERA prices start from $49, you can see all details at https://spyera.com/pricing/

Why do you need Android spy software?
Some people may choose to use Android spy software for a variety of reasons, such as:
Parental control: Parents may use spy software to monitor their children's online activities and ensure they do not engage in inappropriate behaviour or talk to strangers online.

Employee monitoring: Employers may use spy software to monitor their employees' activities and ensure they are not wasting company time or resources, leaking sensitive information, or engaging in illegal or unethical behaviour.

It's important to note that using spy software to monitor someone without their knowledge or consent is illegal and unethical.

Additionally, respecting other people's privacy and only using monitoring software with explicit consent is important.
Is it legal to use an Android spy app?
The legality of using an Android spy app depends on the specific circumstances and the laws of the jurisdiction in which the app is being used. Using spy apps to monitor someone without their knowledge or consent is illegal and could have serious legal consequences.

In many countries, including the United States, installing spyware or tracking software on a device is illegal without the owner's consent. Additionally, many countries have laws protecting individual privacy and prohibiting unauthorised surveillance or monitoring of another person's activities.

It's important to note that there may be legitimate reasons for using monitoring software, such as parental control or employee monitoring. Still, in these cases, it's important to obtain the explicit consent of the person being monitored and to use the software lawfully and ethically.

Suppose you are considering using an Android spy app. In that case, it's important to research the laws in your jurisdiction and to only use monitoring software with the explicit consent of the person being monitored.

What is Android Spy Software?
Android Tracker is an application that you install on an Android to keep your loved ones, your business, and your personal information safe. It lets you remotely see everything on an Android from any web browser.

Our software provides the best monitoring solution for employers, parents, and even personal users who understand the importance of protecting their businesses, personal information and loved ones. With over 200 features and more added daily, SPYERA gives you more options than competitors.

SPYERA is unique — having the ability to listen and record live phone calls & phone surroundings, as well as VoIP calls made on Skype, WhatsApp, Viber, and many more. You won't find these features anywhere else. So, if you're a parent or employer responsible for how your Android devices are being used — then only SPYERA can give you the answers you need.
How to Install Android Spy Software?
Installing the software is easy and takes only a few minutes. You'll need to download the application to the mobile device you want to monitor. You may need to root the target Android to get the most out of the advanced features.

Determine the target device to monitor. Ensure you have an Internet connection. Choose the best SPYERA package for you. You will receive a welcome email which contains your download URL, your web account login credentials and the user manual.

The user manual is step-by-step, and each step has a screenshot.
How to Use Android Spy App?
Once installed, it will run in the background without evidence and record everything.

The data is uploaded to your online web account, where you can view usage and activity reports.

Log in to your Web Control Panel and start spying on text messages, call logs, GPS location, and other activities on the target Android.

Use this information to prevent insider threats, increase employee productivity, back up your data or start a discussion with your children about appropriate online behaviour.
How many devices can I install?
You can only install SPYERA on one device per license purchase. However, you can deactivate and move that license to another device as often as you want during your subscription.
Is SPYERA visible?
Android Spy App offers you the choice of visibility. You can choose to hide the software icon after you install SPYERA.
Can I change my license from Android to iPhone?
Yes, and you don't need to change anything. Your license can be used on any compatible device and platform.
Do you offer installation service?
You will never need such a service because our installation guide is step-by-step, and we have screenshots for each step. However, if you need hassle-free installation, we have a partnership with a third-party IT expert. They will help you with the installation at a meagre cost.
Do I have to root the device?
No. Rooting is not required to install and use Android Spy App, except for a few advanced features. These features are listed above with the note of *Requires Rooting