Monitor Any iPad By Our Hidden iPad Spy App
The most potent and invisible iPad Tracker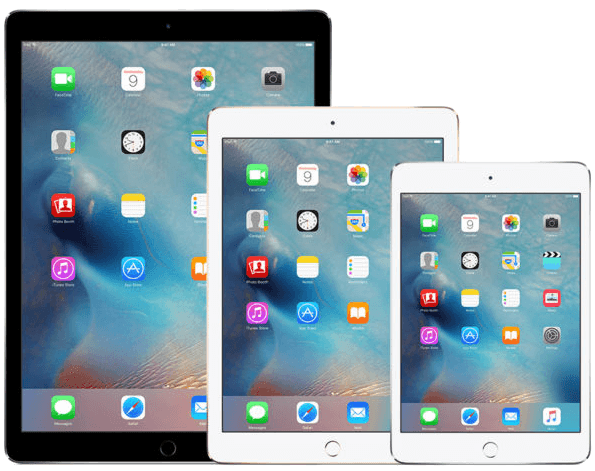 Open the microphone remotely and listen to the iPad's surroundings
Record iPhone VoIP Calls: Skype, Facebook, Viber, LINE, WhatsApp and more
Spy on instant messages such as Facebook, LINE, Viber, Skype, iMessage, BBM, etc.
iPad Keylogger included. Record keystrokes to see anything typed on iPhone
View all Pictures, Videos and Audio stored on the iPad
Remotely control the iPad's camera to take pictures
View web history, bookmarks and app usage
Receive real-time location updates
Spy on the iPad's address books, notes and calendars
Fully tamper-proof using the invisible mode option
Easy to install, step-by-step guide with screenshots
Free updates and device changes during the subscription
100% Undetectable And Invisible iPad Tracker
The complete monitoring software package for use with the Apple iPad
SPY ON CHAT APPS
IM Tracker for iPad
SPYERA is the only iPad tracker that can spy on all popular messaging apps. Track messages on Facebook, WhatsApp, Tinder, FaceTime, Skype, LINE, Viber, Snapchat and many more. See the conversation, including any attachments
EMAIL TRACKER
Spy on E-mails
SPYERA captures all E-mails and sends them to your web account. Even if the user deletes them, you will have a copy on your web account. If the e-mail address is in the iPad address book, the contact name will also be available
APPLICATIONS SCREENSHOTS
Take Screenshots Remotely
The secret screenshot feature gives you a complete picture of how an iPad is being used. It allows you to take remote photos of an iPad's screen while a supported application is in use.
LOCATION TRACKER
Track GPS Locations
iPad minoring app uses real-time GPS positioning. It shows the coordinates of the target iPad. Accurate, real-time GPS tracking of a target iPad to know someone's exact location. A map view that clearly shows current and historical locations
AMBIENT RECORDING
Record Environment Sounds
You can remotely activate the target's iPad microphone and record what is happening around them. Save the ambient recording and listen later. Change the duration of the spy voice recorder remotely.
SPY ON NOTES
Read Notes Remotely
View all notes that they compose on their iPad. See all aspects of their life that they are not sharing. See and read all the notes that are created on their device
AMBIENT LISTENING
Listen To Surroundings
Hear what's happening around the device. Make a hidden Facetime call to the target iPad. Listen to the iPad's surroundings, like a bugging device (conversations in the room, etc.)
FACETIME CALL RECORDING
Listen to FaceTime Calls
iPad tracker lets you spy on FaceTime calls taking place on any iPad. If the iPad user uses FaceTime to make or receive calls, then these calls will be automatically recorded and uploaded to your web portal for you to listen to or download later for offline listening
SPY CAMERA
Open Camera Remotely
Turn on the target iPad's front or back camera remotely. Take photos using the camera and view them later from your web account. Spy Camera for iPad is a powerful mobile surveillance feature. Competitors don't offer this feature!
SPY ON PHOTOS
Monitor iPad Media Files
SPYERA uploads all photos taken from the target iPad to your web account. Check camera images, audio files, video files, wallpapers etc., remotely on your web account.
SPY CAMERA
FaceTime Spy Cam
iPad monitoring app lets you remotely spy on the activity of a target's iPad using FaceTime. You can listen to conversations and capture pictures of the device's surroundings remotely and in real-time.
KEYSTROKE RECORDER
iPad Keylogger
See everything that's being typed. Our Keylogger feature records the entire keystroke history. Find search terms, notes, passwords and more. Captured keystrokes will be uploaded to your web account automatically.
VIEW ALL FEATURES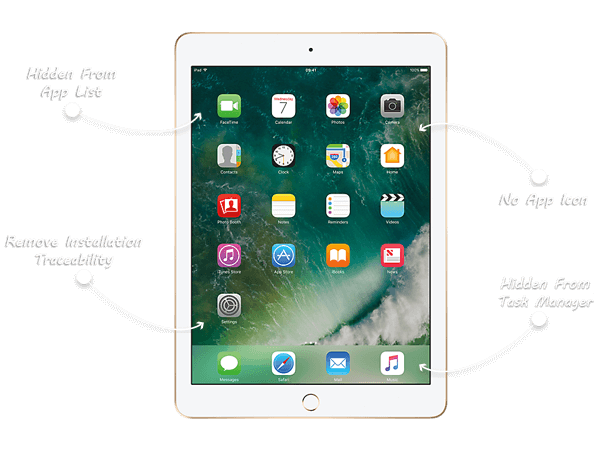 iPad monitoring app is undetectable
SPYERA runs in the background without any evidence.
It is the only 100% invisible iPad Spy App on the market. It does not harm performance or battery drain. It is hidden from the launcher, the home screen, and the task manager.

It Can Hide Jailbreak Evidence
SPYERA allows you to hide its icon and the CYDIA icon. They'll never know their device has been jailbroken.
GET STARTED
SPYERA VS COMPETITORS
Click here to see the full features, detailed comparison list with competitors.
LEARN MORE
How Does It Work?
SPYERA is easy to setup and use

Most Frequent Questions And Answers About iPad Spy App
iPad spy software is an application that you install onto an iPhone. It helps you to keep your loved ones, your business, and your personal information safe.

It allows you to remotely see everything that's happening on an iPhone from any web browser.

Our software provides the best monitoring solution for employers, parents, and even personal users who understand the importance of protecting their businesses, personal information and loved ones.

With over 200 features and more being added every day, SPYERA gives you more options than any other competitor.

SPYERA is unique — having the ability to listen and record live phone calls and phone surroundings, as well as VoIP calls made on Skype, WhatsApp, Viber, and many more. You won't find these features anywhere else.

So, if you're a parent or employer with responsibilities for the way your iPhone devices are being used — then only SPYERA can give you the answers you need.
Installing an iPad monitoring app is easy and takes only a few minutes.

You need to download the monitoring software to the mobile phone that you want to monitor. You will need to jailbreak your iPhone to get the most out of all of the advanced features. This is required for all iOS devices.

You need to have the target device in your hand. Ensure you have an Internet connection. Place your SPYERA order. You will receive a welcome email which contains your download URL, your web account login credentials and the user manual.

To start monitoring the cell phone, you need to install and activate SPYERA. We provide the user manual. The user manual is step-by-step and each step has a screenshot.
Once installed, it will run in the background without any evidence.
The iPad Spy app will start recording everything.
The data is uploaded to your online web account. You can view usage and activity reports from your web account.

Simply log in to your Web Control Panel and start spying on text messages, call logs, GPS location and any other activities taking place on the target iPhone.
You can only install SPYERA on one device per license purchase. However, you can deactivate and move that license to another device as many times as you want during your subscription.
SPYERA offers you the choice of visibility. You can choose to hide the software icon after you install SPYERA.
Yes, and you don't need to change anything. Your license can be used on any compatible device and platform.
SPYERA supports most iPad models. To see if your iPad is supported, see our compatibility page.
Jailbreaking is the process of removing Apple's restrictions on your iPhone so that it can run advanced software.

Jailbreaking does not damage your phone in any way, and can easily be removed with a few keystrokes.

Moreover, if installed correctly there is no visual indication that the device has been jailbroken.
Yes. Jailbreak is required to install and use SPYERA on iOS devices.
We don't think you will ever need such a service because our installation guide is step-by-step, and we have screenshots for each step. However, if you need hassle-free installation, we have a partnership with a third-party IT expert. They will help you with the installation at a very low cost.

Barbara D.
Verified Customer
I saw SPYERA on a news channel a while ago. I have never thought that I will need SPYERA. My grandpa has difficulties to find the home. He gets lost very frequently. All family members, we were worried about that. We decided to purchase the cheapest Android phone. Then we installed SPYERA on it to track my grandpa. I renewed my annual subscription 3 times and I am very happy with SPYERA. Thanks a lot.








Anna K. (Verified Customer)

It worked for me. I discovered everything I need within a month. I got all recorded phone calls without rooting the target device. I also purchased the computer monitoring version because I didn't want to miss anything. I only had problems to contact support. Their response time is around 7-8 hours. It should not be more than a few hours. The rest of was perfect. I highly recommend it.

Adil Faysal (Verified Customer)
I tested many spy apps but I only keep using SPYERA since 2011. The main reason I am using SPYERA is their call interception feature. Only SPYERA can offer call interception. Also, I like remote the update which is a great feature. My target user gets every single update of WhatsApp. Competitors need re-installation again and again for updates. It ridiculous when you have limited time to physical access to the target phone. With SPYERA all done remotely.

Tarık Emre Y.
(Verified Customer)
I like the way SPYERA get the update to the latest version. The remote update is excellent. With Spy phone, the most difficult part is accessing to the target phone. With the remote update, I accessed the target device one time a year ago. Since then I am using the remote update to get the latest features. The only problem I have with SPYERA is that sometimes support team response the next day. Support needs some improvement. The rest of the service is perfect.