Hidden Android Tablet Spy App
The most powerful and undetectable tracker for Android tablets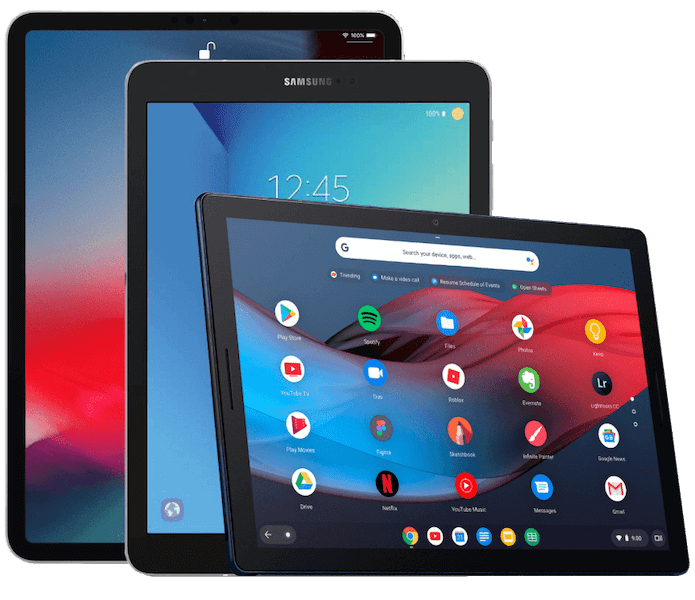 Open the microphone remotely and listen to the Tablet's surroundings
Record VoIP Calls: Skype, Facebook, Viber, LINE, and more
Spy on Facebook, Tinder, Snapchat, Viber, WhatsApp + 9 more IMs
Tablet Keylogger included. Record keystrokes to see anything typed on the tablet
View all Pictures, Videos and Audio stored on the iPad
Remotely control the Tablet's camera to take pictures
View web history, bookmarks and app usage
Spy on Emails, send and receive
Receive real-time location updates
Spy on the Tablet's address books, notes and calendars
Fully tamper-proof using the invisible mode option
Easy to install, step-by-step guide with screenshots
Free updates and device changes during the subscription
100% UNDETECTABLE AND HIDDEN TABLET TRACKER
The complete monitoring software package for use with the Android Tablet
AMBIENT LISTENING
Hear what's happening
Remotely open your tablet's microphone to listen or record everything happening in the surroundings.
SPY ON CHAT APPS
IM Tracker for Tablet
The only Tablet tracker that can spy on all popular messaging apps. Track messages on Facebook, WhatsApp, Tinder, FaceTime, Skype, LINE, Viber, Snapchat and many more. See the conversation, including any attachments.
REMOTE CAMERA CAPTURE
Take Pictures And Videos Remotely
Remotely activate the Android tablet camera to take a photo or video, which will be uploaded to your web account.
TRACK LOCATIONS
Track GPS Location in Real-time
Track the tablet's location and replay its historical movements. Export paths for use in other applications like Google Maps.
SPY ON PHOTOS
Monitor Media Files
SPYERA uploads all photos of the target Android Tablet to your web account. Check camera images, audio files, video files, wallpapers etc., remotely on your web account.
TABLET KEYLOGGER
Record Keystrokes
See everything that's being typed. The Keylogger feature records the entire keystroke history. Find search terms, notes, passwords and more. Captured keystrokes will be uploaded to your web account automatically.
BROWSING ACTIVITY
Track website history and bookmarks
SPYERA allows you to track all web history from the tablet's web browser. Get the time and date of each visit. All URLs are uploaded to the online account Dashboard; click to visit any of them.
MONITOR EMAILS
Spy on E-mails
SPYERA captured all E-mails and sent them to your web account. Even if the user deletes them, you will have a copy on your web account. The contact name will also be available if the e-mail address is in the tablet address book. *Root Required*
APPLICATION SCREENSHOTS
Take Screenshots Remotely
The secret screenshot feature gives you the full picture of how the tablet is being used. It allows you to take remote pictures of the tablet's screen while a supported application is in use.
SPY ON CONTACTS
Monitor contacts and calendars
View Android Tablet contacts and calendar entries. It lets you uncover details like contact names, telephone numbers, associated email addresses, and more.
SPY ON NOTES
Read Notes Remotely
View all notes that they compose on their Android tablet. See all aspects of their life that they are not sharing. See and read all the notes that are created on their device.
DISCOVER SUSPICIOUS ACTIVITY
Create custom alerts
Set alerts for calls to and from specified numbers, 'hot words' in SMS chats or emails, or if location boundaries are breached.
VIEW ALL FEATURES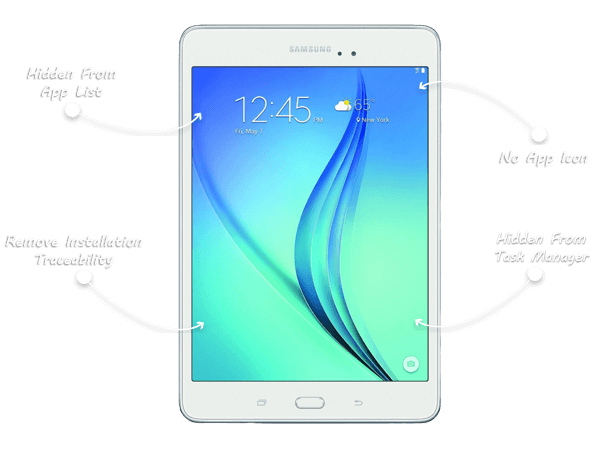 The Tablet Monitoring App Is Undetectable.
SPYERA works in the background without any evidence. It is the only 100% unseen Tablet Spy App on the market. It does not slow performance or battery drain. It is hidden from the launcher, the home screen, and the task manager.
It Can Hide Root Evidence
Rooting an Android is the only way to truly experience all the advanced features SPYERA offers for spying on Android phones. Rooting leaves a visible SuperSU icon on their Android phone; only SPYERA has the knowledge and power to remove and hide this.
GET STARTED
INVISIBLE
It can run 100% invisible or visible. Undetectable, it runs in the background without any evidence.
MORE FEATURES
It offers everything competitors have, plus 70 features that no one else can offer.
MORE DEVICES
Offers Unlimited instant device changes during subscription
REMOTE CONTROL
Provides remote updates, remote upgrades, remote settings changes, and remote uninstall
SPYERA VS COMPETITORS
Click here to see the full features, detailed comparison list with competitors.
LEARN MORE
How Does It Work?
SPYERA is easy to setup and use

Android Tablet Spy App
Most Frequently Asked Questions
What is Android Tablet Spy?
SPYERA, our
Android
Tablet surveillance software, is an application you can install on any Android tablet to ensure the safety of your family, business, and personal data. It provides the capability to remotely monitor everything occurring on an Android Tablet via any web browser.
Our software is the ideal monitoring tool for business owners, parents, and even individual users who recognize the necessity of securing their business interests, personal data, and family.
Outperforming the competition, SPYERA offers more than 200 features, with new ones added each day.
What sets SPYERA apart is its unique capacity to listen to and record live phone calls and ambient phone noise, in addition to VoIP calls made through platforms like Skype, WhatsApp, Viber, and more. You will not find these functionalities anywhere else.
So, whether you're a parent or employer, tasked with overseeing the use of tablet devices, SPYERA is the only software that can provide the answers you require.
How to Install Android Tablet Spy App?
Setting up the Tablet monitoring app is straightforward and can be completed in just a few minutes.

You'll first need to download the monitoring software onto the specific Android Tablet that you intend to monitor.

Ensure that you have the target device physically with you and that you have an active internet connection. Once you've placed your SPYERA order, you'll receive a welcome email. This email includes your download URL, login details for your web account, and a user manual.

To begin the monitoring process, SPYERA must be installed and activated.
We provide a comprehensive user manual to guide you through the process. The manual is structured in a step-by-step manner, complete with screenshots for each step.
How to Spy on Android Tablet?
Once the app is installed, it operates stealthily in the background, leaving no trace of its presence. The Android Tablet Spy app begins recording all activities immediately.
All captured data is uploaded to your personal online account, where you can view usage and activity reports.

Simply sign in to your Web Control Panel to start monitoring text messages, call logs, GPS locations, and other activities on the target tablet.

The information gathered by our tablet spy app is encrypted and transmitted to a secure online portal. From there, you can use any web browser to review data, conduct searches, set alerts, create reports, and more.

Your online account comes equipped with numerous cutting-edge features, including:

Alert Wizard - Monitor 'hot' words in messages, be notified when a device enters a 'location of interest', or when a specific number contacts the target phone.

GPS Navigator Widget - Manage hundreds of coordinates, useful for other tracking apps like Google Maps. You can even retrace the step-by-step movements of the target phone!

Individual Dashboards - Manage multiple devices simultaneously, making it easy to supervise your employees or family.

Download Logs - Conveniently download recorded calls in bulk using our distinctive download manager.
How many devices can I install?
A single license purchase of SPYERA allows installation on just one device. However, during your subscription period, you can deactivate the license on the current device and reactivate it on a different device as many times as you wish.
Is SPYERA visible?
SPYERA offers you the choice of visibility. You can choose to hide the software icon after you install SPYERA.
Can I change my license from Android Tablet to iPad?
Yes, and you don't need to change anything. Your license can be used on any compatible device and platform.
What Android devices are supported?
SPYERA supports most Android devices. To see if your phone is supported, see our
compatibility
page.

Rafi
Verified Customer
It truly makes me feel better knowing what my teenage son is getting into. I had no problems with SPYERA installing or using it.








Basil (Verified Customer)

I used to have SPYERA for iPhone, and now I use a Tablet version on an Android tablet. Service did exactly as it said it would.

Sophie (Verified Customer)
It works great, but some features need root. If the Android tablet isn't rooted, you are limited on some features. But it worked.

Henry R.
(Verified Customer)
A genuinely functional App, wholly hidden and easy to use. Your company is excellent. It helps me all the time and helps me feel safe.