Chinese mobile developers successfully released a working jailbreak for iOS 7.1.0 / iOs 7.1.1 / iOS 7.1.2 devices. For those who have been holding off on upgrading from iOS 6.x.x because they did not want to lose the jailbreak this is surely welcome news. You can see Cydia Store on your iPhone, iPad or iPod Touch running on iOS 7.1.0, 7.1.1 or iOS 7.1.2.
Pangu is the name of the jailbreaking application for iOS 7.1 / 7.1.1 / 7.1.2
It's 100% free jailbreak for iPhone 5S, iPhone 5c, iPhone 5, iPhone 4S, iPhone 4, iPad Air, iPad 4, iPad 3, iPad 2, iPod Touch 5Gen. SPYERA has confirmed that the Pangu untethered jailbreak works on iOS 7.1, 7.1.1 and 7.1.2. SPYERA is now compatible with all iPhone model iOS 7.1.2
Please note: Pangu supports following iOS 7.1-7.1.2 running devices:
iPhone 5s, iPhone 5c, iPhone 5, iPhone 4S and iPhone 4
iPad Air, iPad 4, iPad 3, iPad 2
iPad mini, Retina iPad mini
iPod touch 5G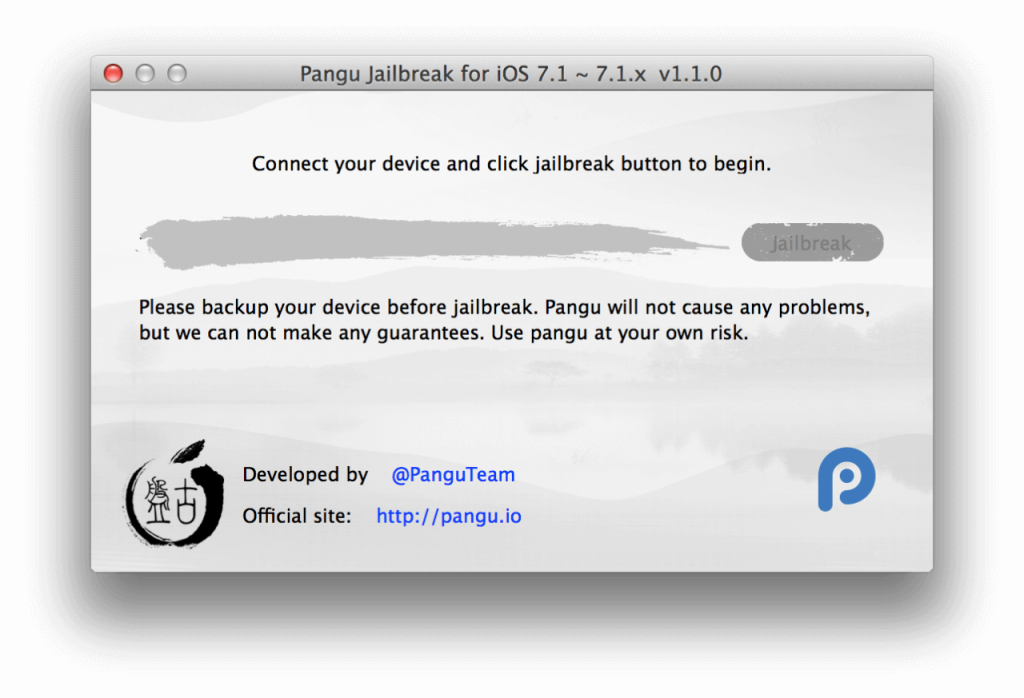 This is instructions on how to jailbreak your iPhone 5s, iPhone 5c, iPhone 4S, and iPhone 4 on iOS 7.1 - 7.1.2 using Pangu.
Step 2 – Run the Pangu jailbreak application (For Windows run it in Administrator mode)
Step 3 – Connect your iPhone or iPad that is running iOS 7.1.0 / 7.1.1 / 7.1.2
Step 4 – On your iPhone & iPad Go to Settings > General > Date & Time > disable the Set Automatically toggle. Set the date and time to June 2nd 2014. Otherwise, the jailbreak will not work.
Step 5 - Wait for Pangu to check the date is correct and then click the big black button to start the jailbreak and just wait. Jailbreak Utility will start. Wait. You can see the Pangu app icon on the iPhone&iPad Home screen.
Step 6- Tap Pangu icon on Home Screen and then tap "Continue" when prompted. Note: If you wait too long before tapping 'Continue' or 'Quit' a message in red text will appear. If this happens you must start the jailbreak process from the beginning again.
Step 7 – The Pangu app on the PC will continue to jailbreak the device. Do not disconnect the device or unplug the device USB cable from your PC. It may take 10-15 minutes.
Step 9 – Done, you should see a "enjoy your new jailbreak message".
You can verify this also by looking on your device now and seeing the Cydia icon. Jailbreaking is required on all iPhone and iPad models in order to install SPYERA so now you are ready to install SPYERA on iOS 7.1.2 devices.  Cydia icon and the SPYERA icon can be hidden at the end of the installation process if desired.
Please click here to explore SPYERA for iPhone and here to explore SPYERA for iPad